Testimonial
" The Novatium Navigator is the most useful for children. Investing on the Novatium Navigator is very helpful as it saves on the total upfront cost, softwares, etc. At an age where a computer is a huge necessity in every walk of life, the Novatium Navigator is such a device that gives you everything you want customized for your personalized computing experience. "
Mrs. Rajalakshmi
Chartered Accountant
Novatium
Navigator
Since inception, Novatium has been pursuing its founding vision of providing superior computing services to the next billion. We believe this challenging goal has been achieved in large measure with our path-breaking service - Navigator.
Designed to provide easy single-point user access, Novatium Navigator is a simple convergence platform that enables computing, communication, entertainment and value-plus utilities through one integrated interface. It creates an effective and mutually beneficial model where both service provider and customer benefit.
Seamlessly bridging the user and web, Novatium Navigator delivers a host of content and features, transparently managing the different components in its operating environment to give the user an unmatched online experience. A wide variety of applications are immediately available to the user – ranging from simple data access and browsing to multimedia information and entertainment content. Genuinely cross-platform and device independent, Navigator works equally effectively under Windows, Linux and Android running on a PC, laptop, tablet or the latest smart devices.
On the server side, Navigator interfaces with a host of specialized software that enables the service provider to provide customized solutions and effectively control every aspect of delivery. Navigator's downstream architecture is designed to enable easy interfacing to virtually any administrative system implemented by the service provider for invoicing, monitoring and other support requirements.
The only requirement for using this exciting service is an internet connection. Apart from functionality, speed, efficiency, security and easy maintenance Navigator also offers a range of payment options – including a pocket-friendly 'pay as you grow' model.
PCaaS -
PC as a Service
The service transparently manages the different components to give the user an unmatched online and computing experience.
PCaaS delivers a host of content and features.
A new eco system that delivers superior customer experience, and where the operator is the orchestrator
Unprecedented orchestration and personalization possibilities across computing ecosystem.
A wide variety of applications and content are immediately available to the user based on his preferences and likes.
PCaaS
Needs
Application, Profile and Device Engines work in synchronization with powerful feedback capabilities for segmented offerings
"Same Platform" Interacts with partner content as well as with 3rd party applications, content and Advertisement.
Dynamic connection of content, applications, advertisement and devices for varied segments.
Customization to Aid consumer satisfaction and further leadsto competitive advantage
Unified desktop experience. Cloud / local through one interface
PCaaS
Features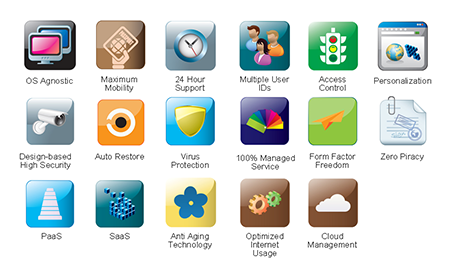 Operator –
A major player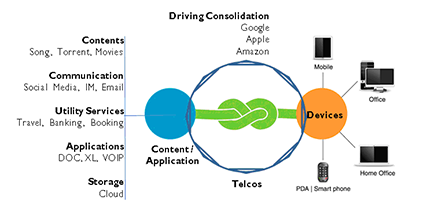 Telecom operators play a central role in the emerging cloud computing paradigm.
However the consolidation leaders are inexorably impacting the operator business opportunity with an array of intuitive devices and attached services
Benefits to
Consumers
A very simple, intuitive and minimalistic interface
An end to end solution with minimal manageability
Free from virus
A customizable operated based offering
Single billing solution
Single support window
A portal/shop facility for users to purchase services based on "Pay for what you use" model
Benefits to
Telecom Operator
Operators to play a major role in the new cloud computing paradigm
Customized valued bundle offering for the customer
The opportunity to cross sell and up sell services and apps
Integration with the telecom operator's existing infrastructure
A flexible and inclusive – Anywhere hosting environment for the operator.
Tracks usage patterns and behavior for operator, to suggest users.
Scalable to any segment and any geography.
MCaaS -
Management control as a Service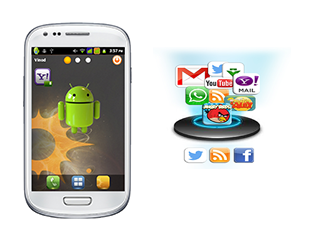 Novatium Navigator is a managed services solution powered by Novatium. This service provides a Superior, Convenient media and computing experience, converged with communication, entertainment and other value added services from an operator. Management control as a Service (McaaS) for mobile internet is an end to end management solution that manages and controls the content being accessed by a user on their mobile network.
McaaS
Needs
In today's world of mobile internet, the major problems faced by the operator range from network bandwidth choking and clogging caused by incessant downloads and streaming to constraints in providing customized and personalized internet packages as it is very expensive on the network. These then force the operator to price t their offerings/packages high. This thus affects the customer from having a good user experience as the customer has to pay a fat price for a network which is sub optimal and acts sluggish.
McaaS for
Mobile Internet
McaaS for Mobile Internet enables operators/service providers to tailor make Internet packages as per users' needs. It enables them to bring in the concepts of customization and personalization into the realm of Internet packages. McaaS for Mobile Internet is a cloud solution managed by the operator manages applications and monitors network usage on user end devices through profiles sent from the above mentioned servers. Using this, the service provider can create different packages for different users and these packages instruct the user end device on what types of content, data and applications are accessible to the user on the Internet. McaaS for Mobile Internet caters to android devices, all that is needed on the user end device is an android application which can be pre installed in case of new users or pushed to the user end device in the case of existing users.
The McaaS for mobile internet framework can be extended to support other operating systems on mobile devices.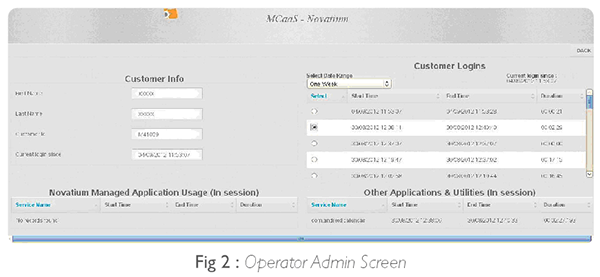 Benefits to
Customers
With whitelisting and blacklisting, the user no longer needs to pay for the bandwidth he consumes ignorantly due to data exchange done by their applications in the back end.
Get personalized Internet package suggestions from the operator thus liberating him from the complex ritual of choosing the right package from the hundreds available.
Pays an economical amount for the package he uses. Can pay per use or pay per applications as the needs change and expand
Does not have to fear about bandwidth hijack from other mobile users using tethering.
Benefits to
Telecom Operators
Limits the burden on an operator while providing unlimited bandwidth to its customer. This is due to optimum utilization of its bandwidth which is achieved by tracking the usage and data consumption of the user.
By profiling the usage pattern of the user, the operator is at a liberty to suggest data packages best suited for its customer. Any customer would feel happy and special when his/her operator suggests a personalized package which would suit him/her best and also weighs light on his/her wallet
The operator can black list and white list uses and applications, for instance streaming on the user end device, without manual intervention. There can be an unlimited browsing package where the user would only be able to browse website and access mails but would not be able to stream or download. Internet packages for downloads and Media streaming can be given to those users who are heavy on entertainment specific streaming and download.
With application tracking and usage monitoring by the operator on user end devices, the operator can make sure there is no network clogging and bandwidth choking and offer seamless connectivity to all types of users.
Since the operator can leverage utilization of network bandwidth and manage which applications can be used for what usage, unlimited data packages can be priced most economically and competitively.
Can manage users, create packages, associate users into groups with an easy to use management portal
This solution can work across all devices and OS, hence the operator can cater to all types of smart phone users.
For MCaaS Free Trial Application, Click here.
The cloud computing world over a
Dongle
Novatium Navigator is a managed services solution powered by Novatium. The service provides a superior and convenient media and computing experience, converged with communication, entertainment and other Value Added Services from an operator. The desktop on dongle takes computing mobile, delivers it over a dongle and provides the operator the ability to manage, control and orchestrate the computing experience of a user.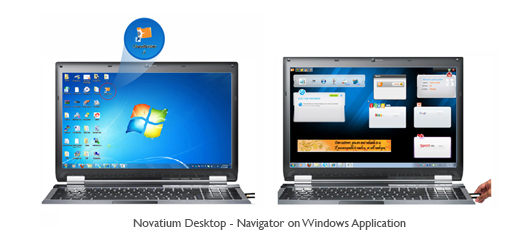 DoD -
Desktop on Dongle
The Desktop on Dongle(DOD) is a breakthrough in computing, on a dongle. The dongle will carry a cloud desktop application, which enables the user to use services such as applications, storage, browsing and many others, managed from the cloud. The cloud desktop, in turn, is a Navigator services desktop controlled and managed by the Navigator services cloud.
The user will not face the hassle to toggle between the Navigator cloud desktop and Windows desktop, as their applications and data can be accessed in the Cloud desktop itself.
The Novatium Navigator cloud desktop platform would be loaded inside the default space available in the USB Dongle and will be integrated with the operator's dialer to sync with the cloud once the connectivity is established. This desktop would have a plethora of ready to use applications (both local and on-cloud). The desktop will render the local applications in absence of the connectivity.
Desktop on Dongle
Needs
Novatium's Desktop on Dongle is a managed service that allows the operator to offer a customized computing experience while at the same time leveraging their dongle business
The Desktop on Dongle has the intelligence to provide profile based Apps & content to the operator subscribers
The "Desktop on Dongle" concept would provide subscribers with anywhere, anytime computing using any hardware, hardware obsolesce is no longer a factor
It is a completely managed service and provides a hassle free computing experience
The user only pays for what he uses
The operator will be able to manage and control the computing services and computing experience, over the cloud
Benefits for the
consumers
a. Mobility
The Desktop on Dongle solution will enable user's access to anywhere, anytime, any device computing. This solution will reduce the dependence on user's own hardware, while keeping the user's privacy and data intact.
b. Personalized Computing Experience
The user will have an easy to use and intuitive desktop environment. The user's desktop experience is managed by the operator; the operator can provide different desktops for different customer segments
The users can customize their desktop as per their preferences. The users will have a flexibility to pick and choose applications, packages and languages for their cloud desktop. The users only have to pay for what they use.
c. Security and Hassle free
The Navigator cloud desktop is highly secure and virus free. The maintenance and up gradation is the responsibility of the operator. The users prevent data pilfering by storing their data on the cloud.
d. Reduce dependency on Hardware
Hardware dependence is reduced and hardware obsolescence is avoided. An old desktop / laptop with an old operating system can provide next generation computing.
Benefits for the
Telecom operators
The operator will have a unique differentiation factor with the USB Dongle offering. The Navigator cloud desktop helps the operator to promote and increase the bandwidth consumption of a user, with its dependence on the cloud and cloud based services
The operator will have a huge opportunity to cross sell and up sell entertainment and media content, games and any VAS
The entire desktop is a monetization opportunity for the operator
The desktop is personalized and relevant to customer needs, enhances customer retention and reduces churn for the operator
The operator will have an ability to optimize backhaul bandwidth utilization by rendering cloud content during off peak hours
Navigator on
Android
About Navigator on
Android
Navigator on Android is a unique offering that facilitates a superior experience on the Android platform. This solution accredits the shaping up of omnipresence with further precision.
The Navigator on Android resides as an application and acts as an overlay on the Android Platform. This application empowers the user to use services such as browsing, storage and many others managed from the cloud. This application pre-loaded on the handhelds, facilitate online as well as offline usage. The native applications can be accessed in the absence of connectivity.

Our
Customers
The Navigator on Android solution is primarily targeted to the Education Sector. The key idea is to cater to certain challenges that these sectors often encounter. Like:
Hassle for the schools and students to facilitate files and information/data sharing with students and teachers who are off school premises. It also becomes important to track the usage of their students to achieve optimized efficiency. It enables to provision applications, content and any type of Education applications and content through this Navigator on Android application.
In the Education sector it becomes utterly important to maintain a constant usage check and ensure that permissible websites /applications alone are viewed and accessed. The ones that are not permissible can be bound to time based access.
Deliverables for
Students and Schools
a. Mobility
The Navigator on Android solution facilitates schools to streamline the mobility of their students by enabling them to access the native desktop from anywhere on their handhelds.
b. Files and
Data Sharing
The platform allows schools to ensure amalgamated data sharing and an unhindered work flow by facilitating files and data sharing with students working off school premises. The students can also share their content and works among other students and schools/community.
c. Customization and personalization
Schools can customize the access of various students/class of students on individual levels. For example the class 7 students will have access to Class & biology which might not be relevant for other class/grade.
d. Usage Monitoring
Schools can exercise a usage monitor on students beyond the premises of the office. The Navigator on Android solution provides a platform to limit user access to permissible URL s and contents and also limit usage check on the handheld devices given away by schools that remain at the student's disposal.
e. Cloud space & Data Security
The cloud storage allows anytime, anywhere access to data. The data remains shielded by a triple sheath Mac layer in a private space free from any sort of data malwares.
f. Content pushing
The Navigator on Android provides a framework on tablets/handhelds for pushing education contents and bookmarks to the targeted segment in an offline or online mode. It provides the scope for an easy-to-use, space to store, manage, and share files.
g. Customized Interface
The Navigator on Android application redirects to a minimalistic and customized user interface on the tablets and handhelds that is easy to use and intuitive for kids and enables the beginners to adapt to pacing technology.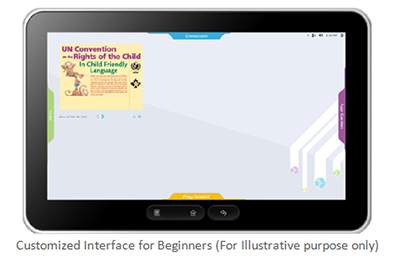 h. Parental Control
Through Navigator on Android application a time based access control as well as a URL control on the usage can be exercised. This also allows white and black listing of websites.
i. Reach of Technology
Tablets/Handhelds have reached those segments where PCs could not. They are more reasonably priced and hence affordable. Education contents can be delivered on these platforms to ensure maximized technology penetration.
Deliverables for
Service Providers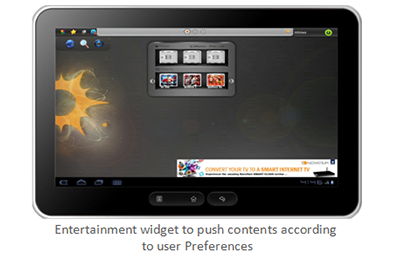 a. Usage Tracking
The Navigator services on the Android platform enable the operator to track the usage of individual users and closely observe user preferences.
b. Content pushing
The operator will have a huge opportunity to cross sell and up sell entertainment and media content, games and other value added services based on user tastes and preferences.
c. Manageability
The application manages the user's profile, device and applications completely for the operator. This will help the operator to have control and management over a user.
Novatium
Enterprise Solution
Enterprise cloud computing made real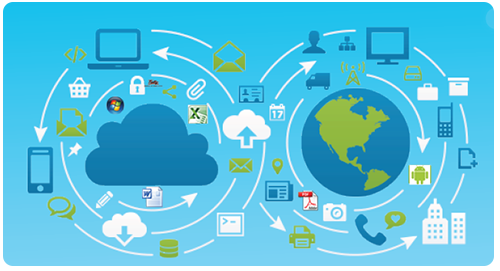 With the proliferation of Internet users, mobile devices and cloud technologies, applications, content and services are no longer tied up to a single device but rather leveraging them through a cloud space is becoming imperative. Enterprises do need to adapt, evolve and capitalize on technology advancements in connectivity, mobility, content usage and the cloud for their own competitive advantage.
Enterprises have various applications, policies, different roles and varying security needs. Users require secure access to applications that they need according to their roles, at times of their choosing. The enterprises don't wish to be encumbered by technology, they need to reduce IT costs and have their IT staff add business value. That there are cloud technologies that promise business value, applications that are on the cloud, run remotely, are SaaS or local, and users have ipads, tablets and Smart Phones, just adds to the complexity.
Traditional Enterprise Management offers stand-alone solutions. There are solutions that manage assets, asset control polices and asset upgrades. There are solutions which deliver applications remotely or in a virtualized manner. There are solutions that enable enterprises to allow users to bring in their own devices or use enterprise given mobile devices to access data and applications with a manifestation of security. Novatium believes that such solutions are siloed, have separate integration needs, are costly to operate and maintain on a piecemeal basis and more importantly manage the device more and through that mechanism hope and try to manage services and applications.
Novatium provides a simple and convenient framework for an enterprise solution that enables enterprises to contextually manage their user's enterprise experience. Users can access applications, files and services that they need, in a secure and controlled manner, on devices of their choice. The enterprise can make sure that access to data and applications is managed and controlled and they can put various policies in place based on the services, security and connectivity providing a view on what's going on. The enterprise can introduce applications as needs expand and users can subscribe to these applications in a self service manner.
The Novatium Enterprise Management solution is extremely efficient in providing mobility in a managed and secure cloud computing environment regardless of the native operating system. The solution extends end to end and encompasses devices, services, concomitant applications and profiles. It also encompasses various connectivity means, cloud based management and control as a service, measurement and audit trails, means and mechanisms for an administrator to administer and control the service. The framework enhances the security of all the collective applications and data an enterprise provides to its users and works with existing authentication, authorization and security products that enterprises use. It also works seamlessly with existing products that the enterprise is using for virtualization, asset management, IaaS, public and private cloud et al.
The significant features include:
Enterprise based desktop
Administer applications, services, packages, users and profiles
Role based authentication and authorization for the user
separation of professional and personal workspaces
Enterprise desktop on a plethora of mobile devices, consistent user experience across all devices
Evaluate the user's implicit and explicit context and enable contextual delivery of services, applications and content
Reporting and audit mechanisms that can be suitably customized
Provision for supporting an enterprise's existing application portal or using the portal provided by the solution
For more information please Click here to view, A video demonstration of our Enterprise solution
For Enterprise solution Trial Application, Click here.
Other
Releases
Novatium has always been into enhancing products for the users, as their needs expand. In this process the R&D of Novatium has a string of releases ranging from dongles to smart phones. The details on the new releases are as follows.
Cynergy
This is an International expansion/evolution of the existing Cynergy, which provides a bootable option on USB. The new Cynergy provides the latest of Navigator services on any platform.
This provides an easy option for a Telco to convert subscribers, non-users and non customers to its Navigator service point
This solution can be delivered on 3G dongle or bootable CD/DVD, which installs the Navigator on any device
The users have a multi boot option, where they can choose between Windows and Navigator. On choosing Navigator services, the user can access Navigator Cloud services
Over the top Navigator desktop on Android
This is will be a preinstalled overlay on the Android platform, where the users can use both the Navigator services and also interface with the best of Android.
The Navigator service runs as an over lay on the Android 2.3 Ginger bread
The Navigator over lay appears, on top of the Android desktop. The overlay has Navigator widgets, applications, cloud storage, bookmarks and other functions of the service
The user can toggle between Navigator overlay screen and Android screen. The user can use the existing Android market place and applications
This service is available on form factors such as tablets, media boxes, smart tv and smart phones
The services in the Navigator overlay are customizable, depending on the Telco's preferences or needs
Over the top Navigator desktop on Windows
This enables the Navigator service on any windows desktop as an application.
The Navigator desktop has widgets, applications, bookmarks and ability to use Novatium cloud services
The user can toggle between Novatium desktop and windows desktop
The Navigator desktop can be delivered as a downloadable file or in a USB drive
Media Widget
This is a perfect use case for entertainment lovers; the user will experience his preferred choice of media content on his/her desktop. This appears on the Navigator home screen and will have 3 sections namely: Trailers, Movies and Ads. This media widget is also a perfect example of the entertainment framework.